Best-of-breed fertilizer stock — Nutrien is looking at sales of ~$40 B this 2022 (43.6% higher than in 2021), profit should excel; in Q2-2022 Nutrien produced nearly as much free cash flow as it did in all of 2021.
Looking for exposure to a hot commodity sector stock that should continue to excel? Look no further than Nutrien Ltd. – Consider NTR up to $100/share USD.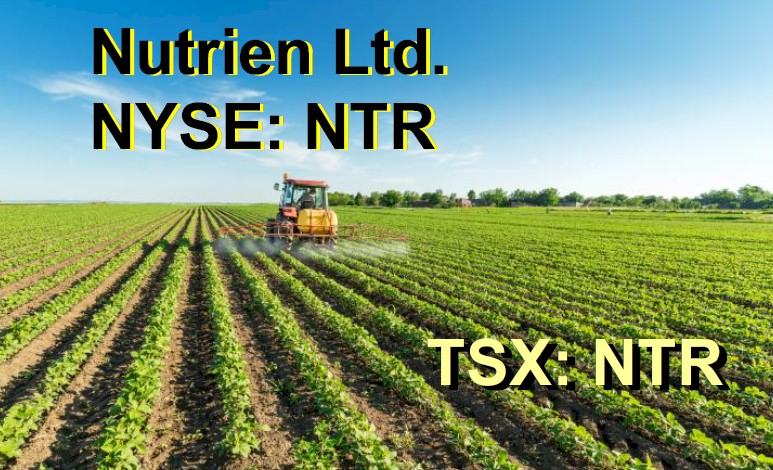 Share data, Capitalization, & Corporate info
Nutrien Ltd.
NYSE stock symbol: NTR, and on TSX: NTR
Share Price: ~$82.94 on NYSE
Market Cap: ~$45 Billion USD
Shares Outstanding: ~538.93 Million
Key statistics: https://finance.yahoo.com/quote/NTR/key-statistics?p=NTR
Company website: https://www.nutrien.com
—— —— ——
Potash Corp. and Agrium merged in 2018 to form Nutrien, the third largest producer of nitrogen fertilizer. Nutrien also possesses the world's largest installed capacity of potash accounting for ~20% market share in potash. Nutrien is also the largest U.S. retailer of fertilizers, crop chemicals, and seeds.
Global demand for fertilizers is strong, projections are for demand to continue to increase. Fertilizer prices have skyrocketed due to conflict sources being shunned; Russia (responsible for 20% of global potash production) and Belarus (responsible for 17% of global potash production). Additionally, Europe's energy crisis is making production of nitrogen fertilizer there extremely cost prohibitive.
This 2022 Nutrien company plans to increase potash production; by 2025, Nutrien is targeting 18 million tonnes (~20% increase over current). Nutrien currently produces ~11+ million tonnes of nitrogen fertilizer and is planning to spend $260 million to increase that total by 500,000 tonnes by 2025, and by 2027 Nutrien plans to have 13.5 million tonnes of capacity (22% more than it current).
Nutrien is diversified geographically in friendly jurisdictions; 13 nitrogen facilities are in North America and the Caribbean. Six are in Canada. Six are in the U.S. And one is in Trinidad and Tobago. Nutrient's six potash mines in Saskatchewan collectively have a gross margin of 85% (better than Mosaic @ 77%).
Awesome earnings with expanding margins:
Nutrien had revenues of $27.7 B in 2021 ($17.7B from retail segment, N segment was $4.2B, K segment was $4B, and the remainder was made up by Phosphate and sulfate), this was ~32% better than 2020. Net Income was $3.4 B (~250% higher than 2020)
Year to date in 2022 sales are ~$22.2 billion through June. Nutrien is covered by numerous analysts and the consensus is for sales to near ~$40 B this 2022 (43.6% higher than in 2021), and Nutrien's profit should excel substantially — in Q2-2022 Nutrien produced nearly as much free cash flow as it did in all of 2021.
##
Note on timing a purchase: Currently we are in a general bear market for stocks, this makes stock picking timing difficult. Consider buying warrants instead of the stock if you want to limit risk. Don't get mad if the stock goes down, be happy as you can get more stock at a cheaper price… so do not necessarily buy all in one tranche — the point here is, this appears a good company to scale into over the long run.
Notice: Content above may contain forward-looking statements regarding future events that involve risk and uncertainties. Readers are cautioned that these forward-looking statements are only predictions and may differ materially from actual events or results. Articles, excerpts, commentary and reviews herein are for information purposes and are not solicitations to buy or sell any of the securities mentioned.
Disclosure: The subject company of this article is not a client. Investor Opportunity has full editorial control of this article. The author has not been compensated to cover the subject company on Investor Opportunity. The author and/or its trading desk affiliate either owns now or plans on establishing a long position in the subject company.